HAPPILY ENOUGH, CONOR Murray wasn't even aware that he was getting booed as he was announced as the player of the match during Ireland's win over Samoa in Bayonne last Saturday night.
Murray was too busy focusing on helping Andy Farrell's home in a close contest.
"I was more concerned about the lineout we were about to face, I didn't actually hear it," said the 34-year-old scrum-half with a smile.
"Someone told me about it though. A lot of people going for Samoa, naturally, but a win is a win in this situation."
In a scrappy Irish performance, Murray was a calming influence as his kicking featured prominently, he carried the ball six times, scored a try, and also did his usual strong defensive work.
In truth, it was an ugly game to finish Ireland's World Cup preparation but Murray was pleased that they gritted it out in the rain at Stade Jean Dauger to maintain their winning streak, which is now at a new record 13 games.
The Munster man felt last weekend's battle was ideal preparation for Ireland's second Pool B game against Tonga.
After wins over Italy, England, and the Samoans, Murray is excited to be looking towards the tournament in France. Ireland fly out to their training base in Tours on Thursday.
"There's a really good mood in the camp and we showed some really good signs against England of what we're capable of. Warm-up games are always going to be a little bit like that," said Murray.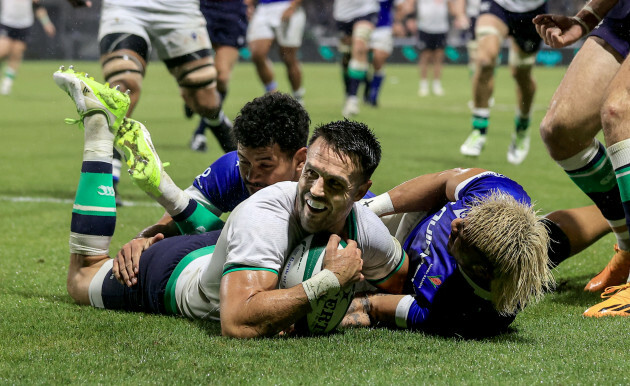 Dan Sheridan / INPHO
Murray scores a try against Samoa.

Dan Sheridan / INPHO / INPHO

"But we know where we can go as a group, the confidence is really high and that [Samoa game] was a different type of test and we found a way to get through it.
"The World Cup is going to be difficult. There's going to be nights like that, the atmosphere was really hostile in a good way, it was enjoyable but we're going to have to deal with that kind of thing as well.
"So in terms of prep for a World Cup, it was a good run out.
"It goes without saying we want to improve and play our best rugby by the time we get to the World Cup and we have the ability to do that."
The most notable performance last weekend was South Africa's dismantling of New Zealand in London as the Springboks flexed some of their most powerful muscles.
"Very impressive" was Murray's succinct review of the South African display before he was asked to elaborate on another of the teams Ireland will face in Pool B.
"We know what they're like. You could say New Zealand were poor but I thought South Africa put them under so much pressure it made them make mistakes.
"Particularly the way they defended, a lot of us have been coached by Jacques [Nienaber] and Felix [Jones] and we know what's coming. Well, we think we know what's coming… Jacques is always going to pull something out of nothing and something you didn't expect.
"So we've been watching South Africa and everyone else for a long time but a really good performance from them and I'm sure they'll feel really good about where they're at because that was a really good New Zealand side and they made them look not so good.
"But I'm sure New Zealand will bounce back and South Africa will feel pretty good too."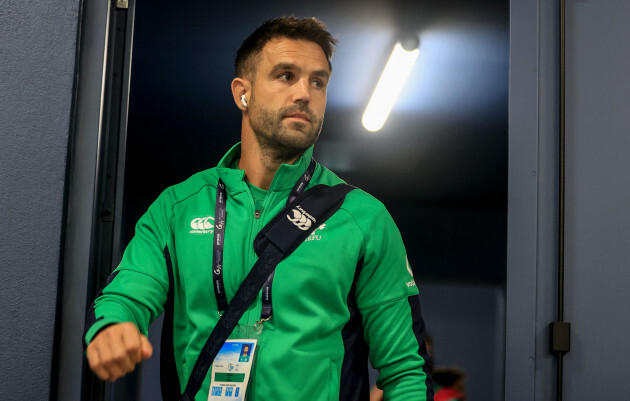 Dan Sheridan / INPHO
Murray in Bayonne last weekend.

Dan Sheridan / INPHO / INPHO

While Murray reiterated that Ireland know how good they can be, he did underline that the World Cup is a different animal.
"We know much pressure there's going to be, how the atmospheres are going to be.
"So yeah, the group's in a good place, we feel pretty confident we know where we're at given what we've come through."
For Murray, this will be a fourth World Cup with Ireland.
He has been second-in-line to Jamison Gibson-Park in recent seasons but continues to play an important role in Farrell's squad. His Munster team-mate Craig Casey makes up the scrum-half depth chart.
"I think the level of competition within the squad is really high and all four nines that were in [including Caolin Blade] were pushing each other.
"When you get your chance in a game because the competition is so high you really want to put your best foot forward.
"So yeah, I feel really good, I feel fit, I'm buzzing."