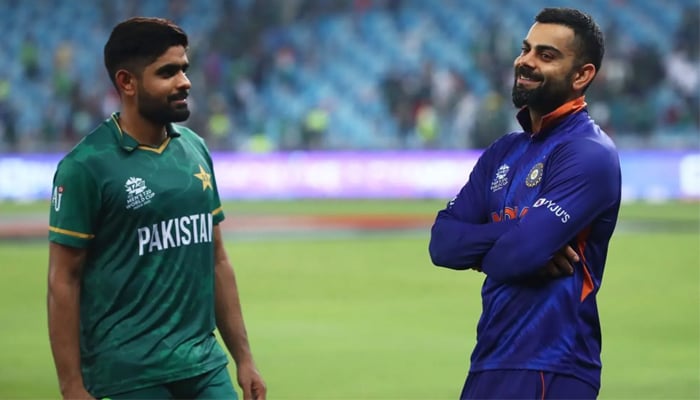 Pakistani skipper Babar Azam reacted to Virat Kohli's comments regarding him ahead of the Asia Cup 2023 as the arch-rivals are scheduled to meet on Saturday (September 2) in Kandy, Sri Lanka.
Azam, 28, is currently the number one ODI batter and also comes in the top four of Test and T20I rankings. All eyes are on him as the green shirts prepare for the ultimate ICC World Cup 2023 in India later this year.
In a video released by Star Sports India, the Pakistani was asked how he feels when he is praised by someone as good as Kohli.
"It feels really good when somebody passes comments like this," Babar replied to the comments Kohli made about him in 2022. "The way Virat Kohli has given comments, for me it is a proud moment. I felt really good. When you get praised like this, you get confidence."
The 28-year-old also recalled his first encounter with the 34-year-old.
"When I met him in the World Cup 2019, he was at the peak of his powers, he is still at his peak. At that time, I was thinking of getting something from him, I got to learn a lot from him.
"I asked him the questions I had in mind and he replied to and explained all of them very generously which gave me a lot of confidence."
Earlier in 2022, Kohli talked about his first interaction with Azam and praised his humility and passion for the game.
"The first interaction I had with him [Babar] was during the 2019 [ODI] World Cup after the game in Manchester. I've known Imad [Wasim] since the Under-19 World Cup, and he said Babar wanted to have a chat. We sat down and spoke about the game. I saw a lot of regard and respect from him from day one, and that hasn't changed.
"Regardless of the fact he's probably the top batsman in the world across formats, and rightly so. Performs so consistently and I've always enjoyed watching him play."
It must be noted that both batters have mutual respect for each other. In 2022, when Kohli was going through a rough patch in his career, Azam shared a picture on social media wishing the Indian a quick comeback.