Police Service of Northern Ireland (PSNI) Chief Constable Simon Byrne is facing growing pressure, with both rank and file officers and civilian staff considering confidence votes in his leadership.
The embattled Chief Constable insisted he would not resign following a marathon session of his oversight body, the Policing Board, on Thursday.
The latest controversy to hit the force erupted earlier this week when High Court judge Mr Justice Scoffield ruled that two junior officers were unlawfully disciplined for an arrest made at a Troubles commemoration event in 2021.
The judge said they had been disciplined to allay a threat that Sinn Fein could withdraw its support for policing.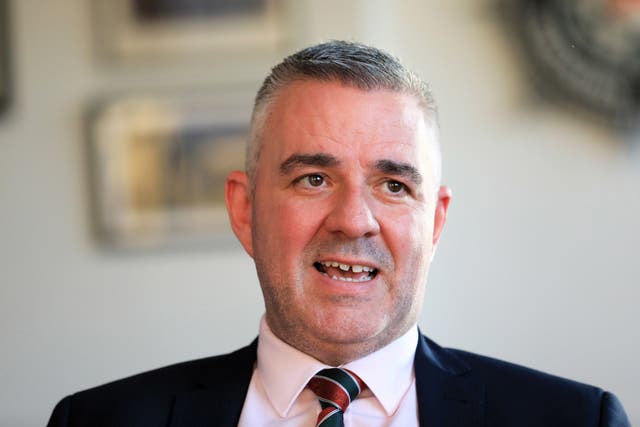 Sinn Fein has insisted there was no such threat.
Mr Byrne initially said he accepted the judgment, but on Thursday indicated that an appeal was being considered and said it was inappropriate to make any further comment.
The chair of the Police Federation for Northern Ireland Liam Kelly expressed "disbelief and anger" at the statement.
Mr Kelly said: "This has infuriated and antagonised the rank and file further and once again the two officers at the centre of the case are being treated disdainfully.
"It is hugely damaging to officer morale and confidence and has to be condemned."
He added: "In short I am disgusted, disillusioned and extremely angry."
The Police Federation has called an extraordinary meeting of its executive central committee next Wednesday when it said a confidence vote may take place into the PSNI leadership.
Nipsa, which represents a number of civilian police staff, is also set to hold an extraordinary departmental committee meeting of police staff representatives next week, during which it will be assessed if there is a demand for a confidence vote in Mr Byrne.
Nipsa official Tracy Godfrey said she feels it is likely that police staff colleagues will want to have such a vote.
She told BBC Radio Ulster's Nolan Show: "I think people have just come to the end of the road with how the organisation is being treated, they have just had enough.
"It's been one disaster after another, the data breach after being told for many years by DoJ (the Department of Justice) that police staff aren't under the same kind of threat as police officers when we clearly are and always have been.
"The data breach comes out and our names are on it, we are not weaponised like police officers so we have no way of defending ourselves if someone comes knocking on our door."
Unionist leaders are expected to hold talks with Mr Byrne later on Friday.
Ulster Unionist leader Doug Beattie has called for Mr Byrne and his deputy Mark Hamilton to resign.
He told the BBC's Good Morning Ulster programme: "None of it looks good and you just need to look at the reaction of the Police Federation and the rank and file officers of the PSNI just to see how bad this actually is.
"What is absolutely clear is that it seems to me that all confidence in the leadership of the Police Service in Northern Ireland has been lost or eroded to such a stage that it can't be regained."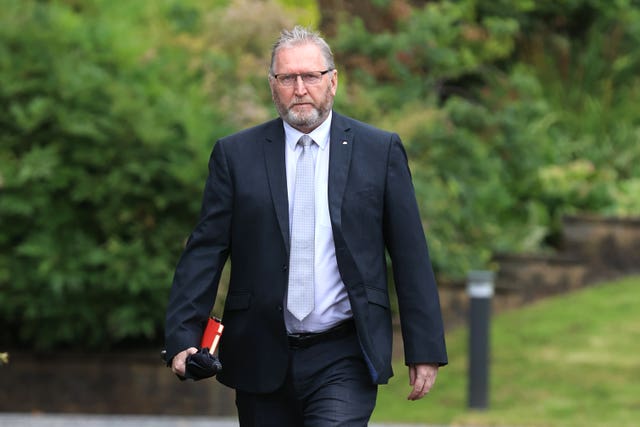 Referencing the potential appeal over the court judgment, Mr Beattie said: "It is absolutely ludicrous and it further undermines his position and it undermines the leadership of the police service.
"And it further alienates the rank and file officers and confidence by the public in what is going on at the very top of a service which is supposed to give us that sense of strong policing."
The incident which the High Court ruled on occurred on the Ormeau Road in Belfast in February 2021 during a service marking the anniversary of the February 1992 Sean Graham bookmakers attack, in which five people were murdered.
The two officers faced action in 2021 after the arrest of Mark Sykes, a survivor of a loyalist gun attack on the bookmakers in south Belfast.
The incident unfolded when police challenged people attending a memorial event amid suspicions that the size of the public gathering breached coronavirus regulations.
Mr Sykes was handcuffed and arrested in chaotic exchanges captured on social media.
The incident triggered a major controversy at the time and sparked criticism of Mr Byrne.
Mr Byrne apologised for the PSNI's handling of the event at the time, and it was announced that one officer was to be suspended and one repositioned.
The court ruling this week has heaped further pressure on Mr Byrne, who was already facing questions about his future after a major data blunder led to personal details of officers entering the public domain and getting into the hands of dissident republicans.